WordPress has long been the first choice CMS for both bloggers and website owners. There are numerous reasons for this-– it's free, easy to use, doesn't require coding knowledge, and has tons of themes and plugins. Although 63% (source:- https://w3techs.com) of websites use WordPress as CMS in 2023, this still leaves 37% of the market open for WordPress alternatives.
If WordPress is so good, why do businesses look for WordPress alternatives?
There are reasons for that as well
It's open source and hence vulnerable to cyber attacks
Not always the best fit for every type of website
Needs frequent updates
Premium themes and plugins are paid
A plethora of innovative WordPress alternatives have emerged that offer a whole new level of customization, are loaded with custom features and capabilities, and are ideal for specific projects. Let's explore some CMS options other than WordPress.
Also Read: How to Connect A Custom Domain to Google Sites in a Simple Steps
Wix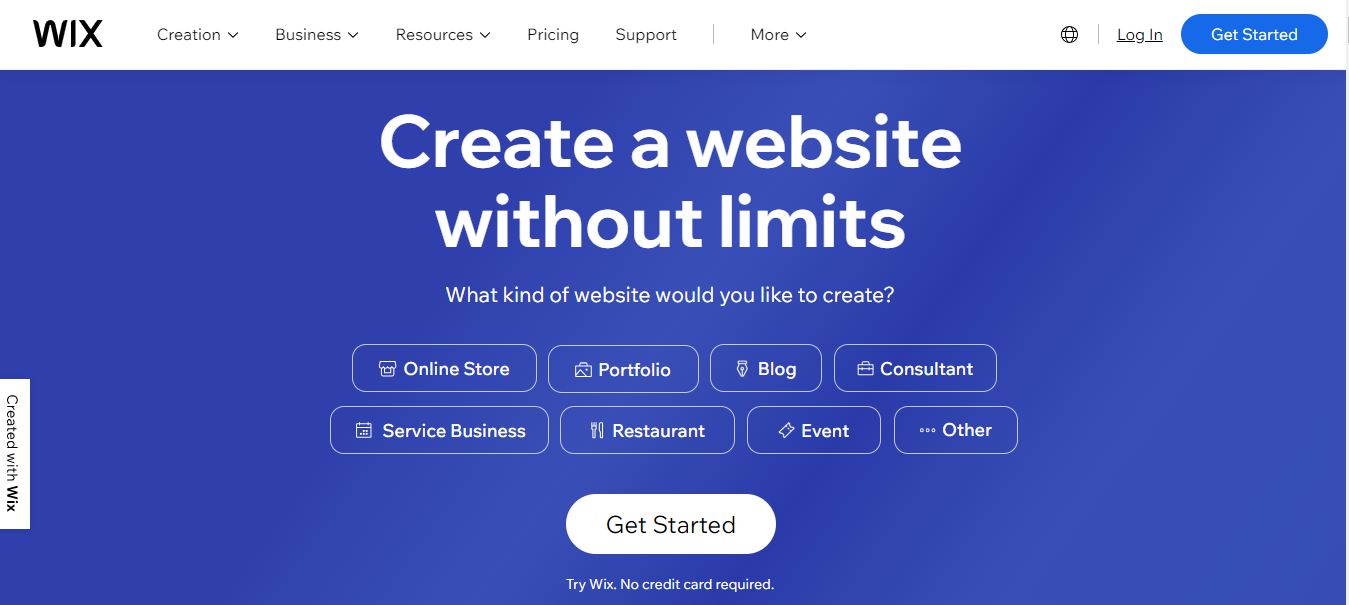 Wix is one of the leading alternatives to WordPress with a wide range of unique features. Whether you're on a free or paid plan, you'll have access to ready-made templates that can be customized through an intuitive drag-and-drop page builder.
Pricing
Free plan with ads and limited options
Premium plans start at 16$ monthly
Notable features
Over 500 designer-made templates for every type of business
Innovative and easy drag & drop option
Advanced design options like scroll effects, video backgrounds, and animations
Pros
✅No coding expertise needed
✅Comes with complimentary hosting
✅Includes a comprehensive set of SEO tools
✅Beginner-friendly
✅AI-enabled site designer
Cons
❌High starting price
❌Less customizable than WordPress
❌Additional cost for personalized SEO plan
❌Difficult to change themes once the website is live
Ideal for
Small businesses
Individual portfolios
Agencies
Example of websites designed on Wix
Conqr
Valeria Monis
French Knot Studios
Joomla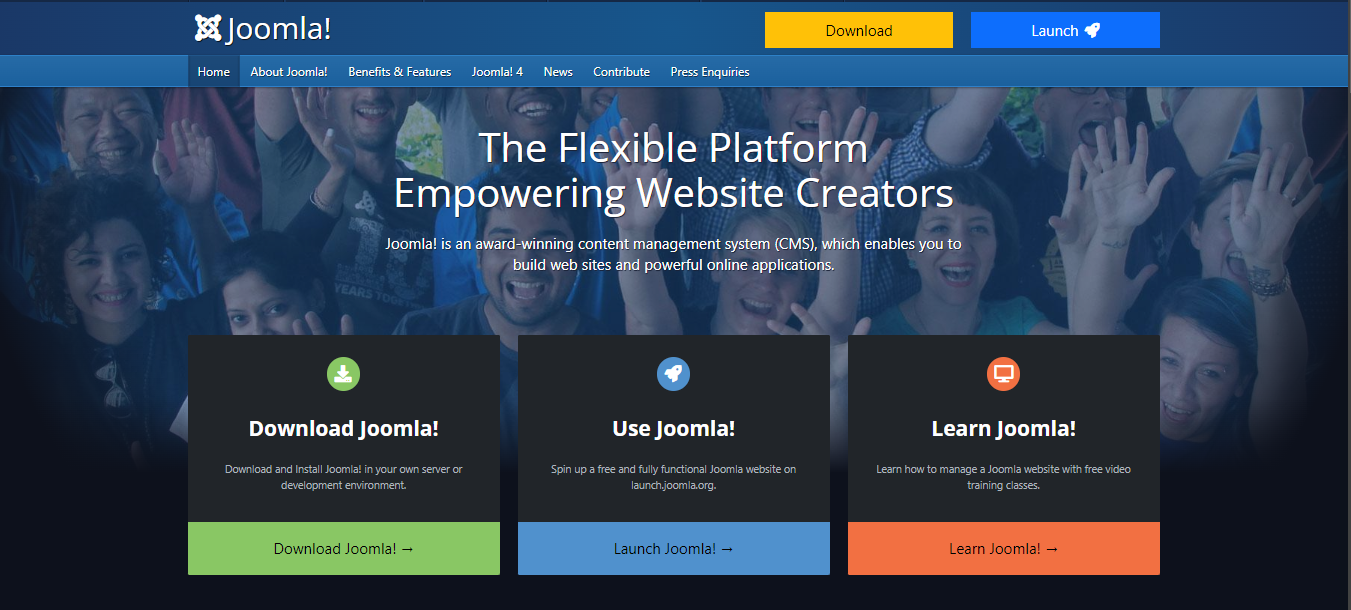 Joomla stands out as a powerful and versatile open-source CMS supported by a thriving community of users and developers.
Pricing:
Notable features
Over 8000 extensions available
Sophisticated user management system
Built-in SEO features
Multilingual support for over 74 languages
Uses Bootstrap for perfect responsive designs
Pros
✅Free to download
✅Easy to manage and update content with an intuitive admin panel
✅A global community of top-class developers ready to help at no cost
Cons
❌Steeper learning curve than WordPress
❌No dedicated support (only available through community and forums)
❌Requires manual efforts to update systems and extensions
Ideal for
Users with extensive technical background
Community or membership websites
Examples of websites built on Joomla
Harvard University
IKEA
Holiday Inn
The Fashion Spot
Also Read: Create Your Own Website Easily & Free with AI Website Builders
Squarespace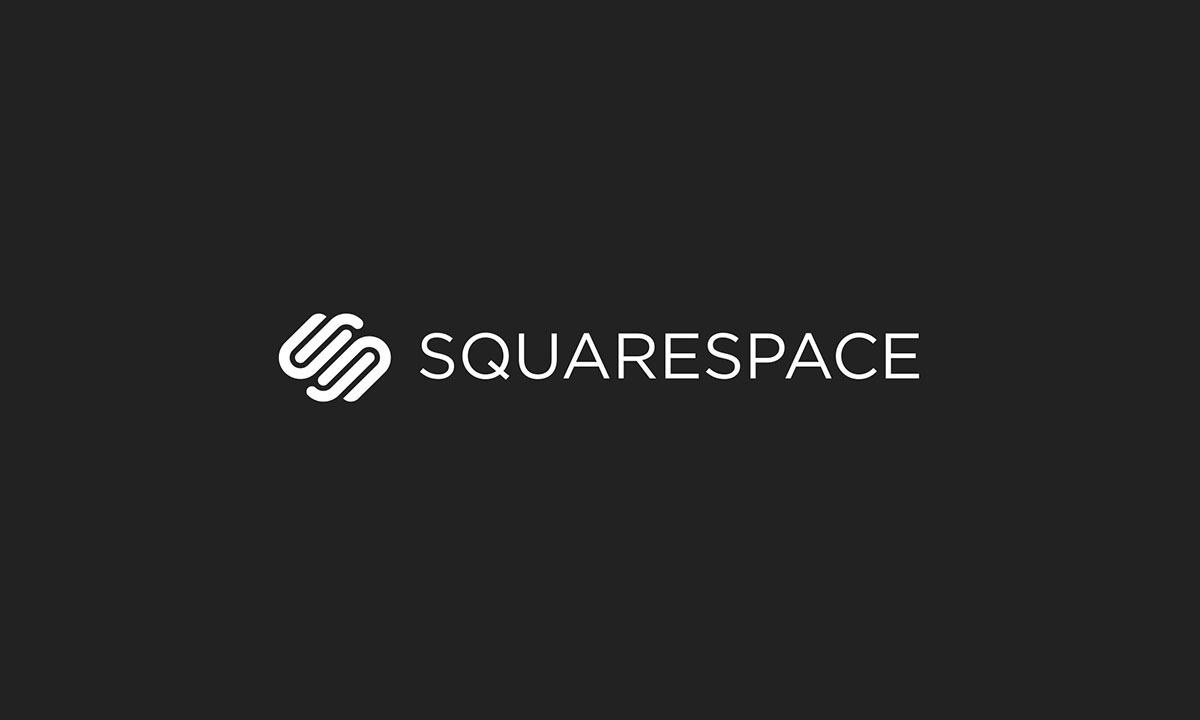 Squarespace has emerged as a leading website-building platform since its inception in 2004. Known for its sleek and modern templates, Squarespace offers an intuitive and all-in-one solution for individuals, businesses, and creatives looking to establish a professional & aesthetic online presence.
Pricing
Provides a 14-day free trial
The premium plan starts at 16$ per month
Notable features
More than 100 customizable and responsive website templates
Feature-packed drag & drop editor
Mobile app available on both Android and iOS
Pros
✅SEO tool for every plan
✅Personalized support via email, chats, and live webinars
✅Professionally designed templates
Cons
❌Charges transaction fees on sales depending on the plan
❌Limited features compared to other CMS platforms
❌Templates may have limitations in deep customization for advanced users
❌Lacks auto-save option and revision history feature
Ideal for 
Portfolio websites
Personal blogs
eCommerce Stores
Example of websites designed on Squarespace
Gretelny
Mike Perry Studio
Weebly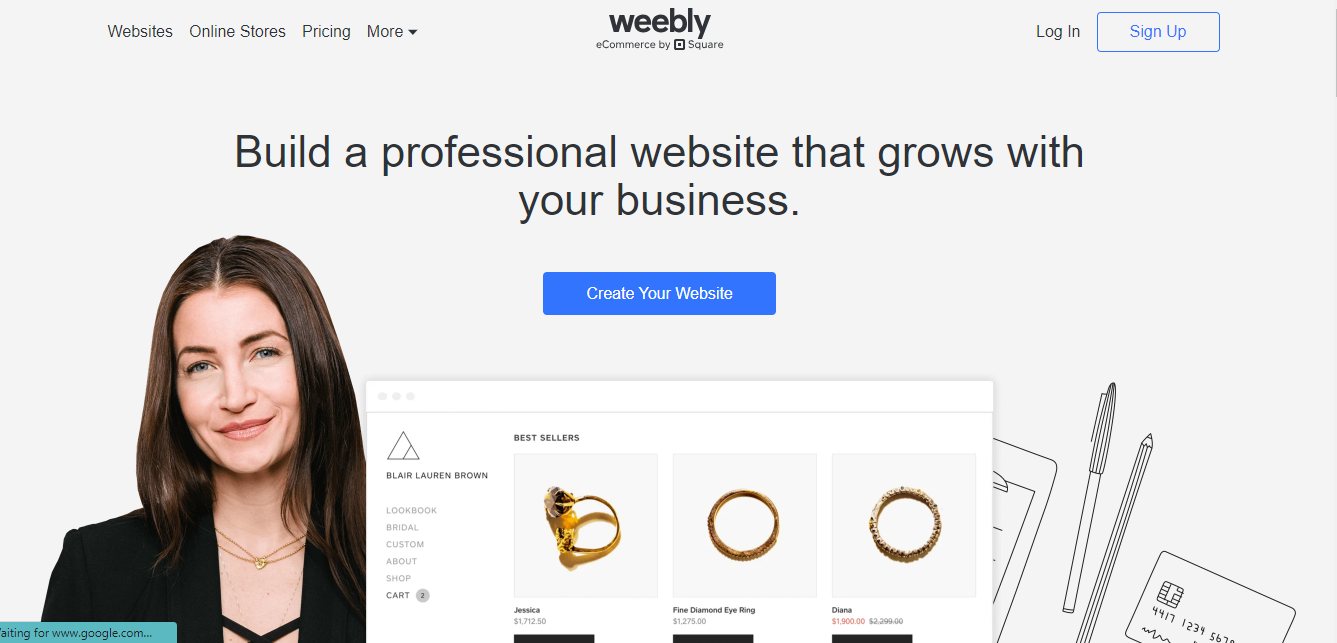 Weebly is a hosted website builder that allows users of any skill level to design a personalized site using pre-made templates and a user-friendly drag-and-drop editor. Similar to Wix, it provides a free version supported by ads alongside its premium subscription plans.
Pricing
Free plan with basic features
Premium plans start at 10$ per month
Notable features
User-friendly interface for seamless customization
Powerful eCommerce platform equipped with inventory management, payment processing, and order tracking capabilities
Incorporated SEO tools
Advanced blogging functionalities including tags, categories, and integration with Facebook.
Pros
✅Multiple features on the free version compared to other CMSs
✅Inbuilt eCommerce functionality with every plan
✅Simple installation and upkeep process
✅Support for more than 300 specialized apps
✅Capable of managing extensive websites and online stores
Cons
❌Difficult to change templates without impacting existing content and layout
❌Lacks advanced marketing tools
❌Difficult to migrate to other platforms
❌The free plan comes with a branded subdomain and Weebly ads
Ideal for
Portfolio websites
Blogs
Informational websites
Examples of websites built on Weebly
Casper
Kerlin BBQ
Ashleigh Green
Also Read: Common Website Issues and How to Avoid Them
Shopify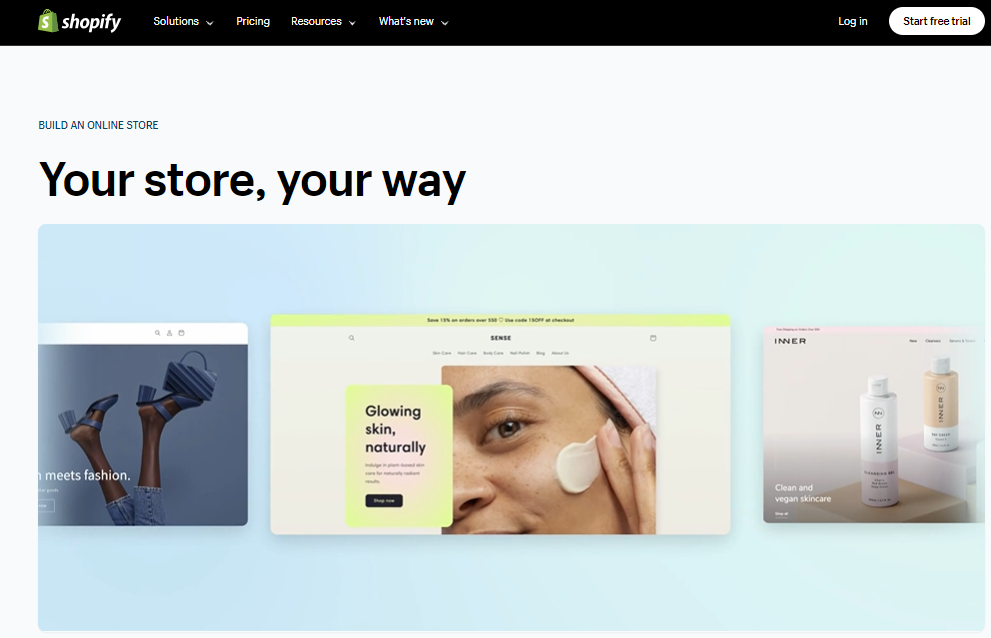 Shopify is by far the best CMS for building an eCommerce website alongside WordPress. The main concept of Shopify is to provide you with everything needed to set up, launch, and promote an online store without any coding knowledge or design experience.
Pricing
Notable features
Effortless website set-up
Drag & drop website builder
Integration with over 6,000 apps
Over 70 eCommerce themes
Recovery of abandoned carts
Discounts on shipping up to 88%
Multichannel eCommerce tools
Pros
✅14-day free trial
✅Built-in AI tool for product description writing
✅Round-the-clock customer support
✅Allows theme import from third-party marketplaces
✅Location-based inventory tracking
✅Built-in payments and shipping
Cons
❌Costly premium plans
❌Transaction charges apply when opting out of Shopify payments
❌Limited themes in the basic plan
Ideal for
Dropshipping Websites
First-time shop owners
Examples of websites built on Shopify
Kylie Cosmetics
Cowboy
Fashion Nova
Gymshark
Taylor Stitch
Also Read: Top 10 Contact us Form Plugins for WordPress
Drupal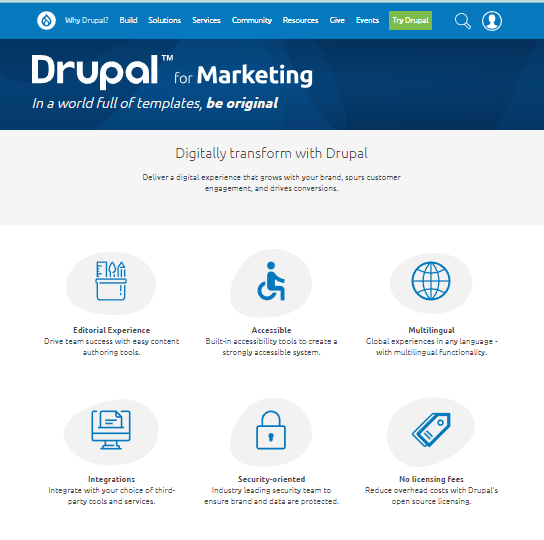 Drupal is a powerful, open-source CMS that empowers users to create and manage dynamic websites and web applications. It is known for its robustness, scalability, and flexibility, making it a popular choice for individuals and businesses looking to build complex and feature-rich online platforms.
Pricing:
Notable features
Robust support for multilingual websites
Vast library of modules
Provides highly flexible taxonomy and menu structures
Pros
✅Can handle large amounts of content and traffic
✅Robust security functions
✅Built-in eCommerce functionality
✅Allows for extensive customization
Cons
❌Steep learning curve for those without technical knowledge
❌Hosting, design, and developer costs can add up quickly
Ideal for
Organizations that require a highly customizable, scalable, and secure platform for building complex websites
Large enterprises, government agencies, educational institutions, and non-profit organizations
Example of websites built on Drupal
NASA
Tesla
The Economist
The Emmy Awards
Hostinger website builder (Zyro)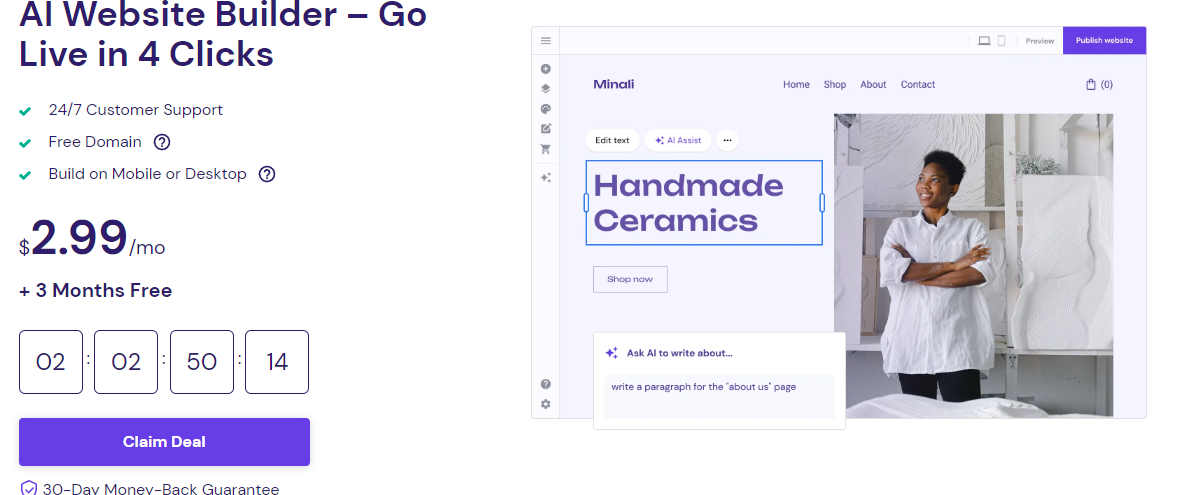 Hostinger website builder (formerly known as Zyro) is a cost-effective alternative to WordPress that allows businesses to create stunning websites without the need for advanced technical skills. With a wide array of customizable templates and an intuitive drag-and-drop interface, it offers a seamless experience for crafting professional-looking websites.
Pricing
Included with all hosting plans of Hostinger
Notable features
AI logo maker and AI writer
Unlimited bandwidth and storage
Multiple eCommerce functionalities
Pros
✅Offers 30 days money back guarantee
✅Beginner-friendly with drag & drop style editor
✅24/7 live support
Cons
❌No advanced plans available
❌Difficult to switch templates once the website is live
❌Only available for users on a Hostinger hosting plan
❌High renewal costs
Ideal for
Business websites
Online stores
Portfolios
Example of websites built on Hostinger website builder
Forrest
Fantasy Farms
Blick
Halwill Music
Also Read: Hostinger Website Hosting: What It Is and How It Works
Conclusion
WordPress will continue to dominate the internet landscape in 2024. Nevertheless, popularity alone does not guarantee a seamless fit. This underscores the importance of exploring alternatives to WordPress that cater to your specific requirements.
This article has introduced a compilation of the top 7 alternatives to WordPress with a focus on well-regarded CMSs and website-building platforms.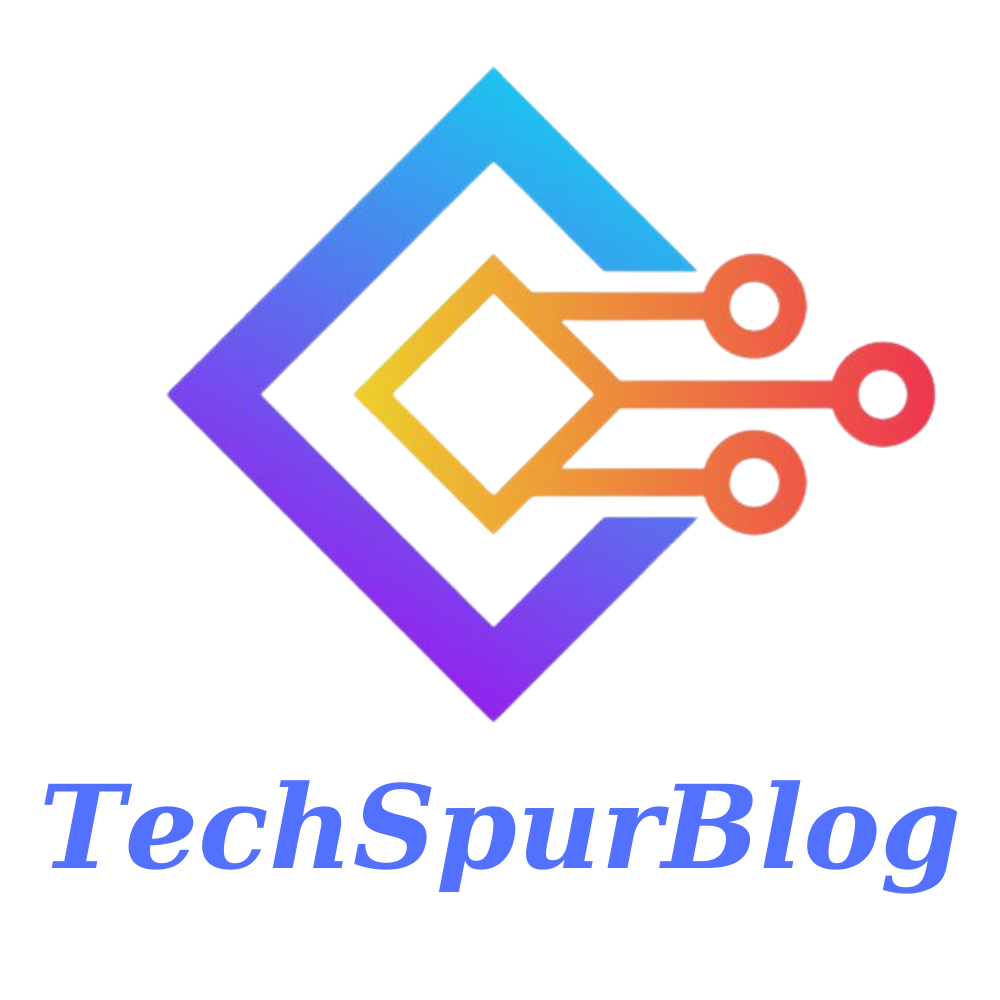 Techspurblog is a blog dedicated to providing industry-leading insights, tips, tricks and tools on topics such as web design, app development, SEO and more. We also provide reviews of the latest tech products and services that can help you get the most out of your business.