We are the founders of Techspurblog and we have been in this industry for over Four years. We pride ourselves on being the global leader in developing Technology Blog, which can create original content. We are a team of enthusiastic people who want to share our experience, knowledge and enterprise with the world. We love what we do and we hope you will too!
Subscribe to our Newsletter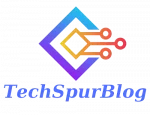 The goal of our articles is to make your life easier if you are a technology enthusiast, or if you are just looking for new ways to improve your marketing campaign.
© Copyright TechSpurBlog. All Rights Reserved.